For the first time, IBM hosted a worldwide Storage Launch in the Nordics. More than 300 customers, partners, and IBM'ers came to the At Six Hotel in Stockholm, and more than 2000 were watching the

live stream

while IBM presented the newest features and updates on one of the world's best storage systems.
Recently IBM updated the IBM Flash System family to include entry-level and midrange solutions to ensure that any business can benefit from the functionality that follows with the IBM storage hardware and IBM Spectrum Virtualize storage software. On the 11th of February 2020 IBM launched the new Flash System family with superior functionality, higher performance SAN volume Controller engine hardware. All with a low cost.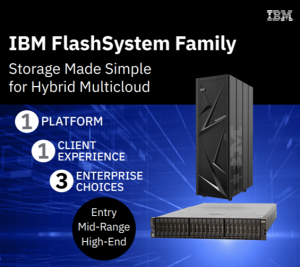 One of the new functionalities in the Flash System family is the dynamic expansion of arrays. This means that it's now possible to expand with one single disc at the time instead of a whole array. This is a fantastic opportunity!
IBM Flash System for entry-level enterprises (former known as Storwize V5010E, V5030E and V5100) remain unchanged, while IBM has launched a new generation of FS7200, FS9200 and FS9200R.
The IBM Flash System family includes:
FlashCore & SCM Technology
NVMe end to end
Enterprise Functionality and Resiliency
Advanced Cyber Resiliency
AI-driven management, data placement, and support
Transparent migration and virtualization of existing storage
Enterprise Support
Price & Density efficiency
Hybrid Multicloud Now
Interested to learn more about the new offerings? Read the announcement blog by Erik Herzog or contact us.
Kontakt:
Mariana Skeel, I&P Sales i Denmark + 45 6033 0655, Mariana.skeel@pedab.com